I hope everyone had a great weekend. Mine was pretty uneventful, but enough to ramble about.
Friday was spent at home thanks to my wonderful boyfriend having to take a fire training class that will FINALLY end this weekend. Thank goodness.
Saturday was spent antiquing and eating a great lunch with Mama, Benji's mom and sister. We ate at this neat place where my favorite thing to get is corn chowder and lemonade served in a mason jar, of course. I decided to try and find a recipe for corn chowder, and I think this is probably the easiest I can find. It probably won't even compare to the one at the restaurant, though.
Then, that night we went to the famous Shealy's, and I pigged out of course. How can you not there? Fried Chicken and white gravy... yum.
Oh, and did I mention Clemson and Georgia won?!? Okay, I must admit I was literally screaming at the tv when Georgia was playing so slack, but they finally figured it out.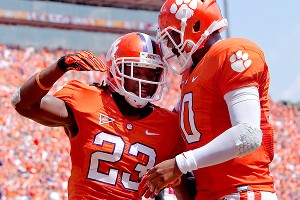 Sunday was spent with a great service at church and spending time with family afterwards. Pretty normal, but something amazing happened that night. In my last post, I mentioned the Lee family. All week, people have been praying that Rick would wake up from his coma, and last night as tears flooded my eyes, I read that he finally did wake up. It will still be a long road, but the power of God is overwhelming. His faithfulness is far greater than we could ever comprehend.
Hope y'all have a great week!